Portable Solar Generator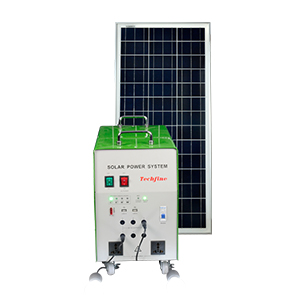 Product Description
This product is a portable solar generator system which integrates charge/discharge control and energy storage and converts solar energy into electricity energy with the characteristics of fashion design,portability and practicability. Putting the solar panel under sunshine will charge in-built battery,which releases zero carbon and is environmentally friendly.
Product features
1.Superior AC loading capacity
2.Strong structure,portable and practical
3.Integrated charge & discharge control
4.Built-in maintenance-free battery,safe and reliable
5.Dual charging mode,solar panel and AC adapter
Application
It is suitable for home use,such as 12V LED lamp,TV,computer,electric cooker,microwave oven, fan and other 12V small household appliances,and also for digital products like mobile phone,power bank,MP3 ect.And it is the first choice of backup power for you home,picnic,camp and adventure.
Parameters
Solar Energy SU Series Technical Parameter
SU300W
SU500W
SU1000W
Solar panels
Optional
Inverter output

AC220V

?

300W

AC220V

?

500W

AC220V

?

1000W

Output voltage
6 DC12V output,60W

2 USB5V/1A

?

1 DC12V/5A

Battery
12V24AH
12V38AH
12V65AH
12V38AH
12V65AH
12V100AH
Battery(Optional)
According to local illumination time
Discharge
According to output power
Rated charge current
<3A
<4A
<5A
<4A
<5A
<10A
Rated DC discharge current
5A
System voltage
12V
12/24V
Overvoltage protection
14.4V
14.4/28.8V
Charge voltage
15V
15/30V
Over discharge voltage
10.5V
10.5/21V
Control mode

Charge

?

Pulse width modulation

Operating temperature

-10

??

55

?

Overload short circuit protection
Output cut off after 10ms
Protection circuit

Overload

?

short-circuit, burn out the fuse;

Size: L:W:H
450*245*390mm
500*245*390mm
---